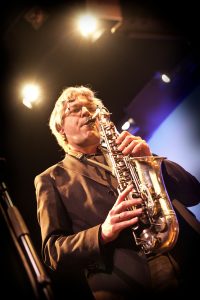 "Ik ken niemand die zo mooi kan zingen … op een saxofoon"
(Karen Vrijburg, jazzvocaliste)
Gerlo Hesselink is geen onbekende op het podium van De Tor. Als lid van de Dual City Concert Band,  de New Sound Jazz Machine, Demi-Seq, het Millennium Jazz Orchestra, The Ramblers… en dan vergeten we vast nog wel een paar….
Maar dat hij met zijn eigen band en zijn eigen muziek op ons podium staat, daarvoor moeten we terug naar 2013. Reden temeer om 'm in dit jubileumjaar uit te nodigen samen met zijn quartet dat, naast Gerlo zelf, bestaat uit
Dirk Balthaus (piano),
Johan Plomp (bas), en
Joost Kesselaar (drums)
Wat mag je verwachten vanavond? Verfijnde, eigentijdse jazz met lyrische trekken, gespeeld door een energieke band van internationaal niveau.
"I feel that Gerlo Hesselink is and wonderful compositional improviser and his music reflects an interesting new direction.! Gerlo's alto sound is inspiring to me. His music and playing is meant to reflect and move forward at the same time."
(Dick Oatts)
Voorafgaand aan dit concert organiseren we een "Chef's Table"